We have Australia's hottest new surfing accessories to keep you in the surf longer.
Our innovative products can help you enjoy the surf and outdoors even more and provide you with
protection and comfort as you follow your passion!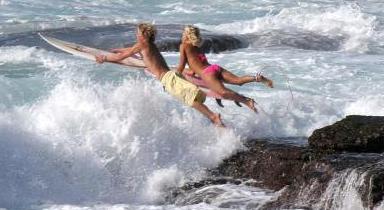 We have a wide range of products at fantastic prices available to the public everyday.
To view product descriptions, pricing or just for more information click on the product selections to the left.
Coming Soon .....
Contact us for more info.
4WD Tours and Ocean Adventures will be starting end of September so we can start taking bookings !!!
Spoil someone with a fun day get away or just time out.
In searching for ghost stories, we will be doing some tours, so if anyone wants to join in the search and be part of making it happen book now!
"See You Out There" Fun Sporty Boat Escapes
We have a water tour available for 2 Adults or 1 Adult & 2 kids.
We tested the fun sporty boat out, it was a lot of fun! I was taken to a water access only BBQ area with wallabies and birdlife and a little safe beach.
This is one of the many water tours we have ready to go.
Bookings essential - email

info@seeyououtthere.com.au
Coming Soon!!!

"See You Out There" Surf Lessons

Learn to surf with friendly, reliable teachers.

More information following.

Email expressions of interest to info@seeyououtthere.com.au, numbers will be limited.

The Surf Cruiz Aider ™

Something for those who are no longer able to surf.

A message from the creator of the Surf Cruiz Aider

Hi!

A series events, accidently broke a surf board, didn't want to part with it, days of surfing were on the decline with a balance issue that has now been resolved whilst constructing and collecting bits & pieces for the board which was put together by CJ.

Advise was given by some of the most wonderful people in the skating and surfing industry prior to me going ahead with the idea.... more soon!

Being the coconut cruisader and not wanting to be without surfing, never give up and if there is a will there is a way, a series of events led to the Invention of what will allow you to surf and cruize ....

"Surf Cruiz Aider"

Handles are for balance, support and for those former surfers who I am planning on getting out there to put them on this to get that feeling again.

This is the most fun thing I have created and it has been at Wollongong with 2 surf instructors doing tandems, Manly and today, Australia Day Dee Why Beach was fun with the main street closed off and some very impressive skaters pushing this to the limit!

The handles came off before we got to the main street, which was a great thing for the day as it gave to board freedom, bought many smiles and everyone just loved it and had the best time.

"See You Out There!"

Kymie

Surf Cruiz Aider is a "neuro muscular balance board" perfect for brain re-training, rehabilitation and alot of fun for anyone but there is a very important reason for this creation, anyone with neuro muscular, auto immune this is something that will benefit everyone, I have no balance on land, my recent findings and this will be a benefit to anyone who wants to have a go!

Anyone who has never surfed, this is large enough to feel safe & balanced on and will give you a tiny insight as to why we go back for more!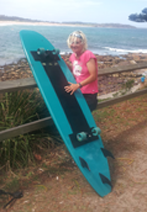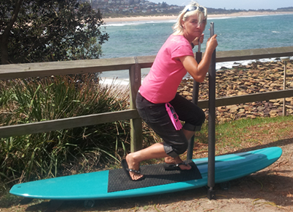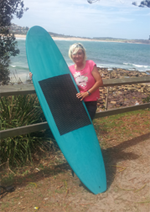 Click here

to see a video of the Surf Cruiz Aider ™ in action!
....... we have a pink Surf Cruiz Aider!
Success with new Pink Surf Cruiz Aider 2 required some re-designing. It was a great launch and everyone had fun rides.
Want to experience this ? Join us for a ride. Let us know.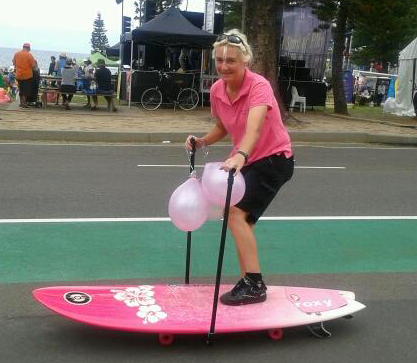 &nbsp


Steamers 3/2 now $88.00! Ladies 4/3 now $88.00!

To Make Room for the Organic Product Range we are offering wholesale prices to everyone on selected stock.

HUGE SAVINGS!

*Gripper Round Boot - now $35.00!* *Gripper Split Boot - now $35.00!* *Ultralight Split Boot - now $22.00!*
*Cayman Bootie - half price at $25.00!* *Bali Bootie - half price at $30.00!*
*Long Sleeved Rash Vest - reduced to $27.00!* *Short Sleeved Rash Vest - reduced to $22.00!*
*Male and Female Steamer Suits - now $88.00 each!* *Male and Female Spring Suits - now $77.00 each!*
*Child Steamer Suit - reduced to $88.00!* *Child Spring Suit - reduced to $55.00! *
*Fin Phone - now $15.00!*

Limited Stock - don't miss out!

Featured Products



Between The Sets
A "See You Out There" Surf Production



AVAILABLE IN PAPERBACK AND E-BOOK FORMAT



A very entertaining and interesting book on Surfing that is really Out There!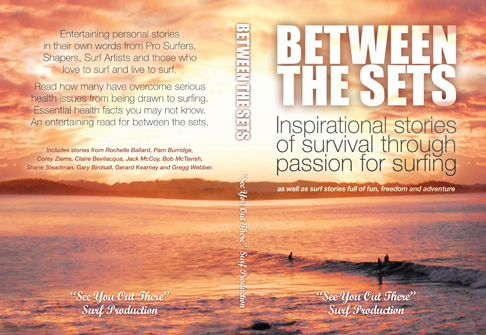 Entertaining personal stories from Pro Surfers, Shapers, Surf Artists and those who love to surf and live to surf.

Read how many have overcome serious health issues from being drawn to surfing.

Includes stories from Rochelle Ballard, Pam Burridge, Corey Ziems, Claire Bevilacqua, Jack McCoy, Bob McTavish, Shane Steadman, Gary Birdsall, Gerard Kearney and Gregg Webber, and art work from Martin Tullemans.

Launching new talent and products with surf and health related products.

This will be one of the most talked about books, so be the first to get your copy.

Proceeds from the sale of this book are going towards creating the benefits of the ocean indoors - something for everyone.

Printed in Australia



Now Available in Revised Paperback and E-Book formats!



Click here for more information...


Stories that will reel you in!
Another "See You Out There" Surf Production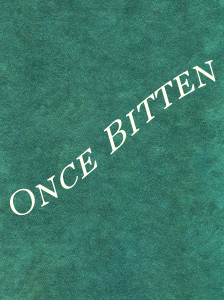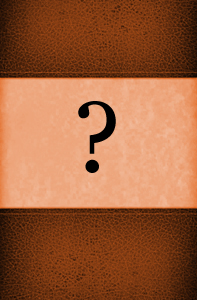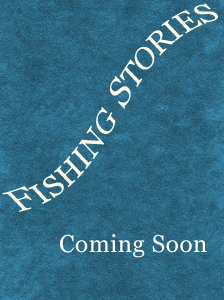 A new entertaing and interesting book is in the works!

"Between The Sets" Part 2 is in the pipeline!

Want to share a surf story?

We are chasing Ghost / paranormal stories
and
Fishing Stories.

If you want to share a story for this new book, please email it to info@seeyououtthere.com.au.
Power Webbed Gloves by H2Odyssey - feature 2mm shark skin palm and webbed fingers with all sizes catered for. These gloves have been known to increase power by 30%!
Click here for more information...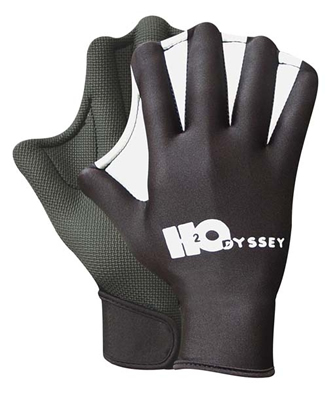 Enhance your paddle power and swim like Thorpie to catch more waves!
BUY NOW!
SurfMuff® - a wetsuit for your ears, revolutionary, low cost, comfortable ear protection headband that lets you hear making the SurfMuff® the only practical alternative to hoods and plugs.
Click here for more information...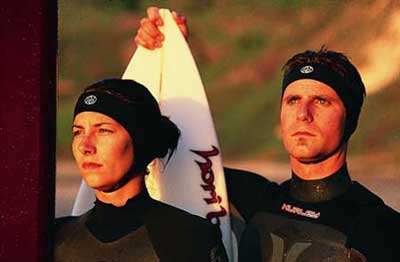 Don't come off second best in the water - try the SurfMuff® today!
BUY NOW!
Coconuts are the Forgotten Superfood!
New Research is showing some incredible health benefits and it is important to know some new developments from every part of the coconut and disregard the rumours so you can make an informed decision to better your health.
Organic Natural Product Range


Kymeze Coconut Lip Balm:
Natural lip balm. Requested by popular demand with the giveaways last summer! Available for summer or whilst stocks last only $4.95.
Click here for more information...
Organic Soothe and Moisten:
For sunburn relief! An after sun skin treatment that also soothes tired aching muscles, reduces swelling, and is a natural anti inflamatory.
X-STING-WISH ®:
Stops the itch and reduces redness, Special formula. For
BLUE BOTTLE STINGS, MOZZIE BITES, SOOTHES ALL BITES AND STINGS, BOARD RASH, CUTS, GRAZES, PIMPLES, CHICKEN POX.
1st Aid Kit in Bottle click for more ....
Click here to read an article about the benefits of X-Sting-Wish ® by Pacific Longboarder Magazine. PDF Format.
* Discounts for bulk orders.
* Wholesale queries welcome.
Click here for more information...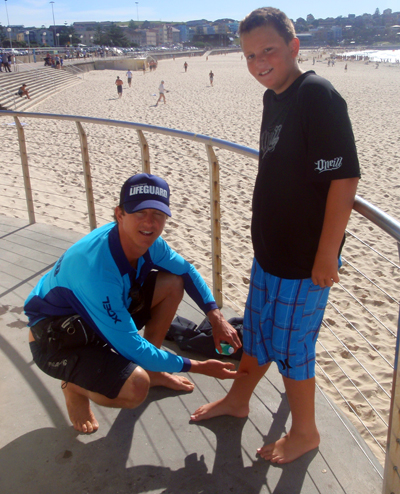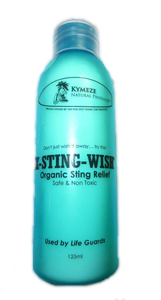 When nature's nasties cause you grief,
X-Sting-Wish ® brings you soothing relief

Please note: Silver nozzle is for illustration purposes only. Bottle does not come with a silver nozzle.
BUY NOW!
Coming Soon..... New Product
Coconut Swoosh - Organic Coconut Mouth Rinse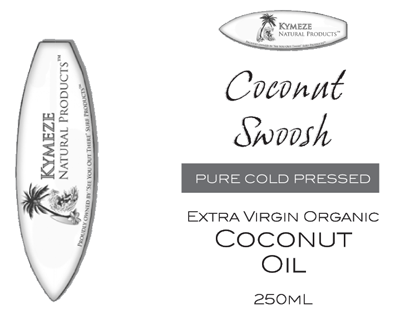 Tastes just like coconut ice - only smoother!
Tradition and original Mouth rinse, swoosh after flossing.
***Not to be gargled and expel after swooshing***
Magnet for Bacteria - Perfect for the "Oil Pulling Method"
Naturally sweet and coconut's anti inflammatory natural properties and antioxidents - you can notice the difference.
Dry mouth needs extra protection - this helps naturally.
Further information provided upon request for any special needs.
Testomonies available on various postive results helping naturally.
Fastest and most natural way to maintain daily mouth care.
Used for centuries and is most natural and safest way to keep germs at bay.
Currently Professors in the US are using a spoonful of coconut oil to reverse the side effects of Alziemers, Dementia. Coconut oil is helping with Parkinsons and kids with Autism.
Important! These products are not meant to diagnose or cure. Always try on a small section of skin, if irritation occurs discontinue use. First aid rules apply and be sure to remove any remaining tentacles from blue bottles before use. Seek medical advice if problem persists.
100% Money Back Guarantee on the Kymeze Product Range.
Keep the product and full refund if not satisfied.
The postive results speak for themselves.

BUY NOW!
The New Arthritis Cure by Bruce Fife, C.M., M.D., - this book will show you a a totally unique approach to overcoming arthritis and fibromyalgia.
Click here for more information...


Eliminate the pain of arthritis!
BUY NOW!
The Coconut Oil Miracle by Bruce Fife, C.M., M.D., - Coconut oil has been called the "healthiest dietary oil on earth." If you're not using coconut oil for your daily cooking and body care needs you're missing out on one of nature's most amazing health products.
Click here for more information...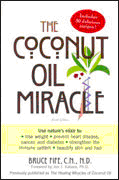 Learn about the amazing properties of pure Coconut Oil!
BUY NOW!
Coconut Cures by Bruce Fife, C.M., M.D., - Discover the amazing health benefits of coconut oil, meat, milk, and water. In this book you will learn why coconut oil is considered the healthiest oil on earth and how it can protect you against heart disease, diabetes, and infectious illnesses such as influenza, herpes, Candida, and even HIV.
Click here for more information...


Prevent and Treat Common Health Problems with Coconut!
BUY NOW!
Coconut Water by Bruce Fife, C.M., M.D., - Coconut water is a powerhouse of nutrition containing a complex blend of vitamins, minerals, amino acids, carbohydrates, antioxidants, enzymes, health enhancing growth hormones, and other phytonutrients. Learn about its healing powers, now being confirmed by medical science.
Click here for more information...
*Note: See You Out There is currently sourcing the purest coconut water to sell.
It should be available by December*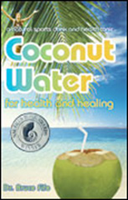 Learn about the healing properties of Coconut Water!
BUY NOW!
Oil Pulling Therapy by Bruce Fife, C.M., M.D., - If you have bad breath, bleeding gums, cavities, or tooth pain you need this book! If you suffer from asthma, diabetes, arthritis, migraine headaches, or any chronic illness and have not found relief, this book could have the solution you need.
Click here for more information...


Get fresher breath, healthier gums, whiter teeth and protection from many chronic health problems.
BUY NOW!
Salt Lamps - You can now have the freshness of the air after a thunderstorm, being by the surf or on a mountain top, in your home or office! Being around a salt lamp has a very calming effect and is beneficial to anyone who suffers from stress.
Click here for more information...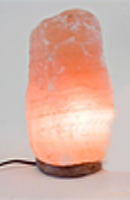 Enjoy the benefits of ionized air in your own home.
BUY NOW!
Links:
www.windsurfing.org - Surfing Friends
www.surfingaustralia.com.au - Surfing Australia Website
www.realsurf.com - Daily Surf Report
www.pbase.com/maxipbase - Special thanks to Maxi for images
www.auscams.com - quality electronic security systems
www.tech2u.com.au - Internet, Web Hosting & Web Design
www.surfer2surfer.com.au - Surfing Gifts
www.fins4fun.com - Cell Phone Holsters
www.coconutwater.net.au - Coconut water & Surf Art coming soon
www.coconutresearchcenter.org - Information on Coconut Products
www.oncebitten.org - Helping you to help yourself after serious bites and stings
Free informative site for anyone wanting to share